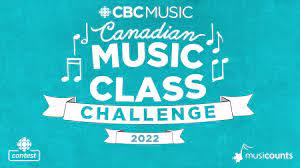 This fall Ms. Kuban and our Grade 5/6 class choir entered CBC's Canadian Music Class challenge.
We are very proud to announce that the choir has won first place in the Indigenous Language category for their performance of the song "Nikamo" by Burnstick.
"Nikamo" is a beautiful Cree lullaby by Burnstick, a husband-and-wife duo from Manitoba made up of Plains Cree guitarist and singer Jason Burnstick and francophone-Métis singer-songwriter Nadia Gaudet.
Our school has been awarded a plaque and $1000 to purchase musical instruments.  Congratulations on this huge accomplishment.